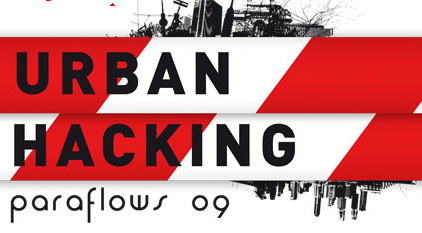 PARAFLOWS 09: Festival für Digitale Kunst und Kulturen
Das diesjährige Symposium URBAN HACKING, das im Raum D, QDK,
quartier21 im Museumsquartier stattfindet, steht unter dem Motto
"Cultural Jamming Strategies in the Risky Spaces of Modernity".
An drei Tagen (11. bis 13. September 09, von jeweils 14 bis 19 Uhr)
widmet sich das Symposium der Frage der Machbarkeit und Lebbarkeit
kultureller Widerständigkeit unter dem Druck des Marktes und einer
konservativ ausgerichteten Kulturpolitik.
Das Panel Urban am Freitag thematisiert die Stadt als kulturellen
Austragungsort, um 19:30 tagt der Creative Commons Alps Salon mit
Michel Bauwens als Gast. Am Samstag werden Herkunft, Strukturen und
Möglichkeiten des vielschichtigen Begriffs Hacking untersucht. Zu
den Votragenden zählen moot, der Gründer von 4chan, und Charlie Todd.
Der abschließende dritte Tag widmet sich dem Thema des Risikos im
Sinne einer künstlerisch und philosophisch motivierten
Grenzüberschreitung.
Ort: Raum D, QDK, quartier21, MQ, Museumsplatz 1, 1070 Wien
Begonnen wird das Symposiumsprogramm täglich um 11 Uhr im Rahmen
einer Matinee mit einem Überraschungsfilm im Studiokino des
Filmarchivs Austria (Obere Augartenstrasse1, 1020 Wien).
Nähere Informationen zum Programm unter www.paraflows.